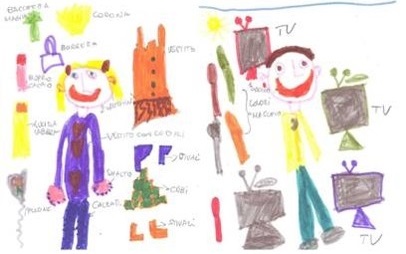 Within the formation effort of Pistoia Early Childhood Services, a formation experience for adults was created over the issue of gender equality addressed to families and teachers of 0-6 years old Educational Services.
The objectives of the training course were: to support the growth of boys and girls in a society where roles and languages are not marked by gender inequality; to train teachers of 0-6 years old, where female teachers are more numerous than male teachers, to deepen the issue of "feminization of the career" among teachers of age group of 0 to 6 and of gender culture in general education, to teach parents about gender identity and how to combat stereotypes that risk affecting the creation of identity of boys and girls through strict and discriminatory social representations.
The topics covered during the meetings were:
Valuing "Mother's knowledge"
Gender stereotypes in games and literature
Guidelines for emotional education
Gender stereotypes generated by parents' expectations
Reflections on the growth of girls and boys
Encouraging people to an approach that goes beyond male-female restrictions
Overcoming traditional male-female gender roles
Father's contribution in child-rearing and education
The meetings were aimed at a sharing between teachers and parents of their perception of the "male-female" difference in the daily contest. Through this sharing the participants have passed gender stereotypes that they themselves have unconsciously internalized.
During the workshops, the same activities that would be usually used with children were proposed to the participants; for example, the method of "story telling" was used by choosing children's books considered useful for reflecting on individual perceptions of gender equality through a review of emotions they had felt while listening to the story. Recognition of emotions is essential to recognizing stereotypes and to beginning to overcome them.
This training was very successful among families, because they rarely have opportunities to attend meetings about this issue. Gender discrimination is an important subject not only at school, but also at home. The fact that the parents of these children were accompanied by experts in the field in the path of dismantling stereotypes was considered effective.
The main innovation is also the involvement of teachers, educators and parents of 0-3 year-olds, because this age group isn't usually involved in gender equality learning experiences.
Period of construction: January – March 2017
Tools:
"Cosa faremo da grandi? Prontuario di mestieri per bambine e bambini" I. Biemmi, L. Terranera, Ed. Settenove , 2015
"Il principino scende da cavallo" I. Biemmi, EDT, Giralangolo, 2015
"Piccolo blu, piccolo giallo" L. Lionni, Babalibri, 1999
Link:
www.unicef.it/scuola
https://www.comune.pistoia.it/9510
http://www.comune.monsummano-terme.pt.it/news/scuola-di-parita-incontri-con-esperti
https://www.icandreottipescia.gov.it/wp-content/uploads/2017/01/A-scuola-di-parit%C3%A0.pdf
http://www.comune.montale.pt.it/allegati/incontri2017.pdf
Contacs:
Virginia Meo – v.meo@unicef.it
Daunia De Luca – d.deluca@unicef.it